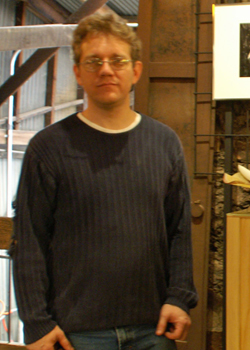 Artist-glassmaker David Hopman returned to Amador County in California's Sierra Foothills after many years in the San Francisco Bay Area. A graduate in zoology from U.C. Davis he was working at Stanford when he focused his artistic interest on glass. He began studying glassblowing at San Jose State. In 2000 he decided to devote full time to his art. As a zoologist and avid scuba diver he is strongly influenced by the natural world. It inspires the colors and patterns he utilizes in the classic and freeform blown shapes he creates. Using a state of the art electric furnace he melts glass from batch. He then adds colors that come from as far away as New Zealand. Working the glass at over 2100 degrees, he blows and hand shapes the piece to achieve a wide array of forms. Many of the color patterns he has devised depend on complex and ever variable interactions between the compounds used in the different color stocks. His work is presently showing in California, Ohio and Florida galleries.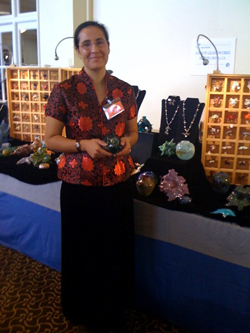 Heather Hopman works in a variety of mediums including lampworked soft glass beads, ceramics, gourds, metalworking, blown glass and watercolors. She was born and raised in Amador County.
She has studied under Loren Stump, Robert Mickelson and Vittorio Constantini.